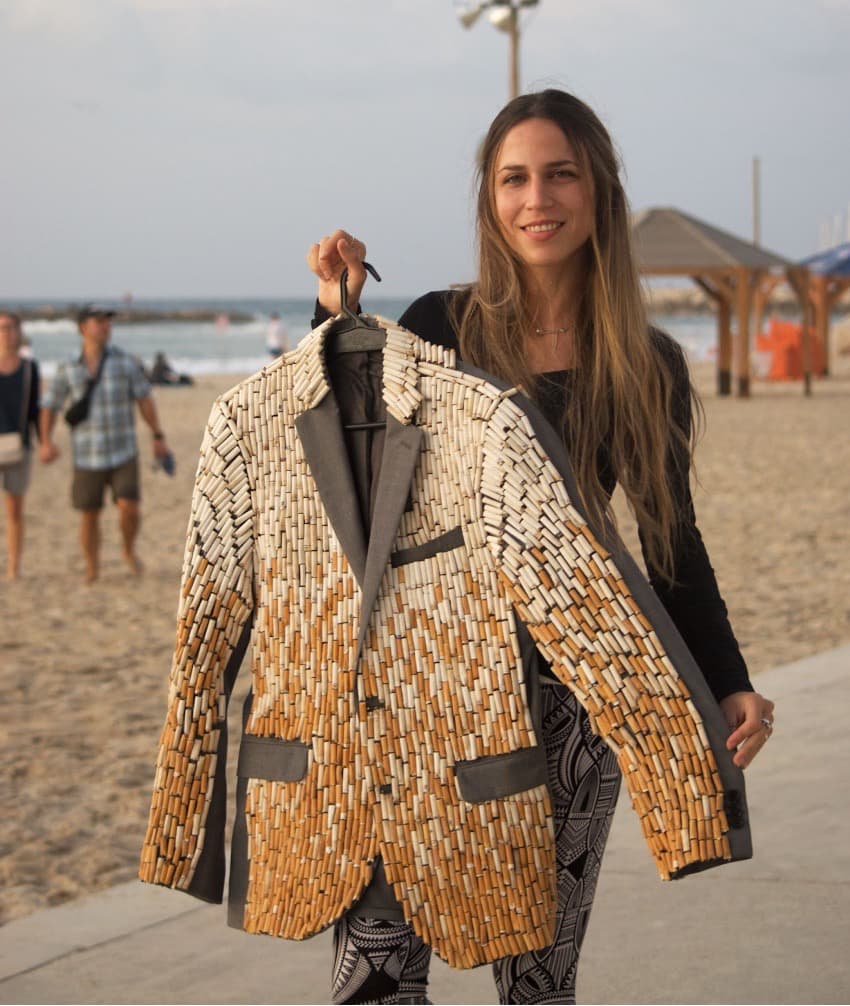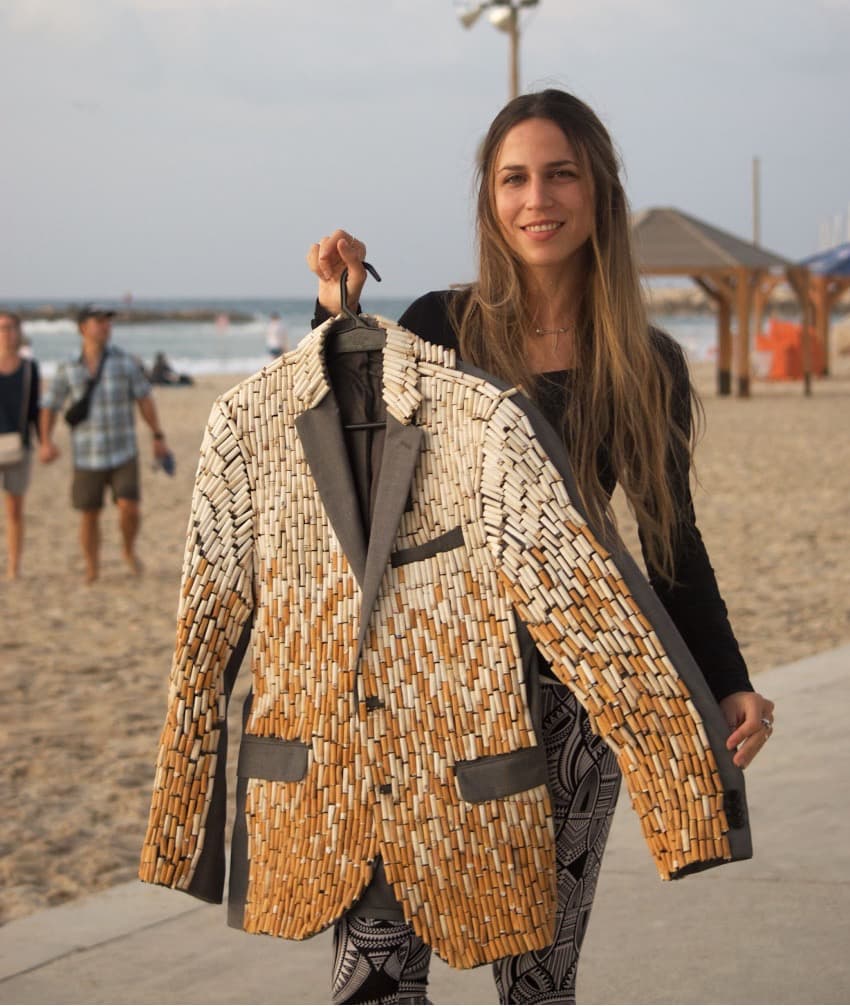 In recent years, more and more people are choosing to lead a sustainable lifestyle. We all know that plastic harms the environment, and many of us try to reduce our use of it. Some people bring their own bags when shopping at the supermarket; some avoid using sandwich bags, picking a lunchbox instead. Despite this, many people struggle to change their habits, and there are massive amounts of plastic pollution every year.
Evelyn Anca, also known as Evi Art, is an activist who uses her art to raise awareness about environmental issues. In this exclusive interview, she told us about what it's like to be an activist, and why it's important.
Evelyn never studied art, but she's been drawing since she was 7 years old. Her love for animals began at a young age as well. "I used to watch National Geographic and always wanted to go to Africa," she said.
She became an activist after her first visit to Africa in 2013, where she was exposed to the legal hunting of lions and other animals as trophies. This brought her attention to other environmental issues and endangered species around the world. She couldn't let it go since, and became an advocate for countless environmental causes including endangered species, marine pollution, plastic, and climate change.
"We are here because of our environment, because of the ecosystem, because the ocean gives us oxygen and because the trees absorb CO2. We depend on our environment, so we have to take care of it. If nothing changes, temperatures will rise, forests will be gone, the ocean won't sustain life, and we won't be here anymore. Our environment is our life."
When looking at oceans for example, hundreds of thousands of animals die because of plastic. There are predictions that by 2050 there will be more plastic than fish in the oceans.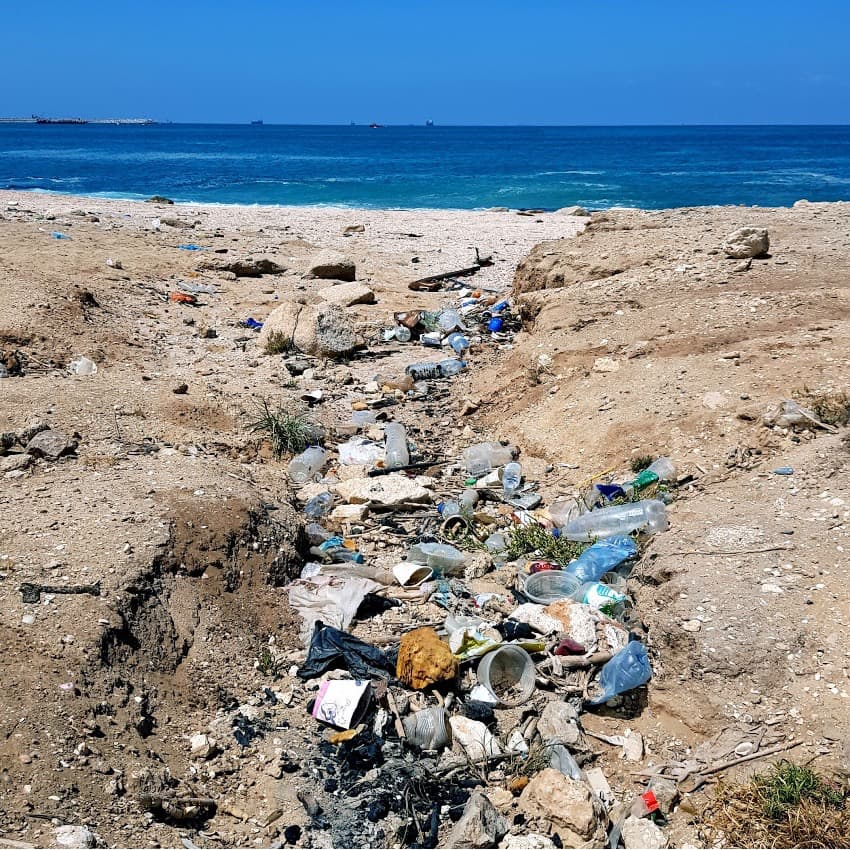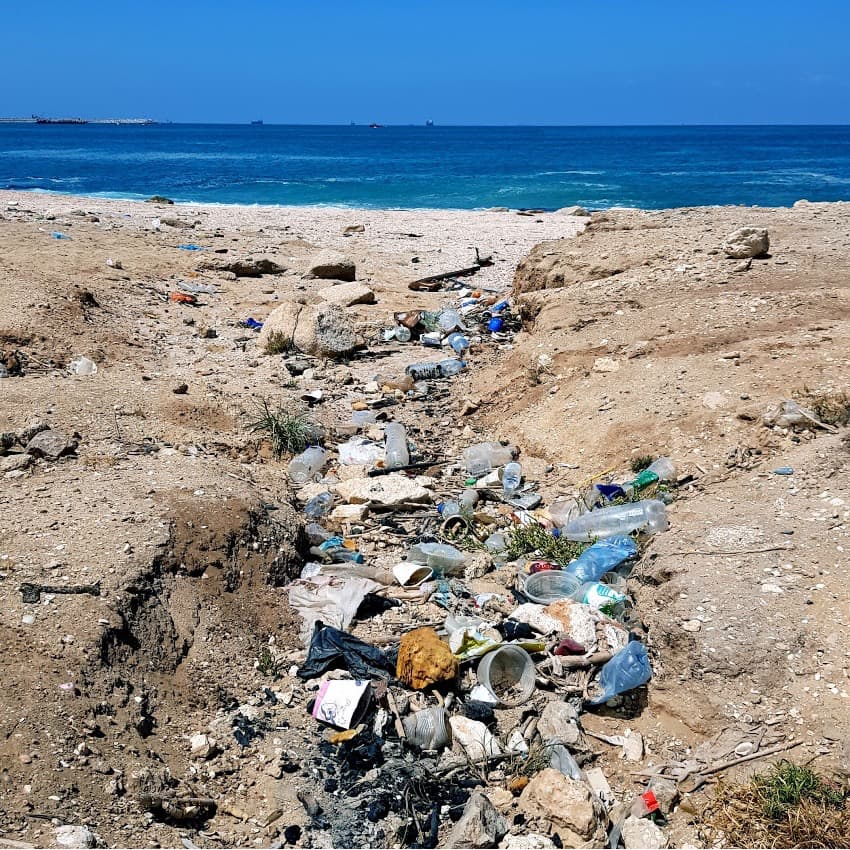 Evelyn began doing beach cleanups, and realized that she wanted to do more with the trash itself. "It's an important tool to raise awareness about the issue. You can look at an art piece and see things found on the beach and say 'gosh, I used that yesterday.' The story doesn't end in the bin."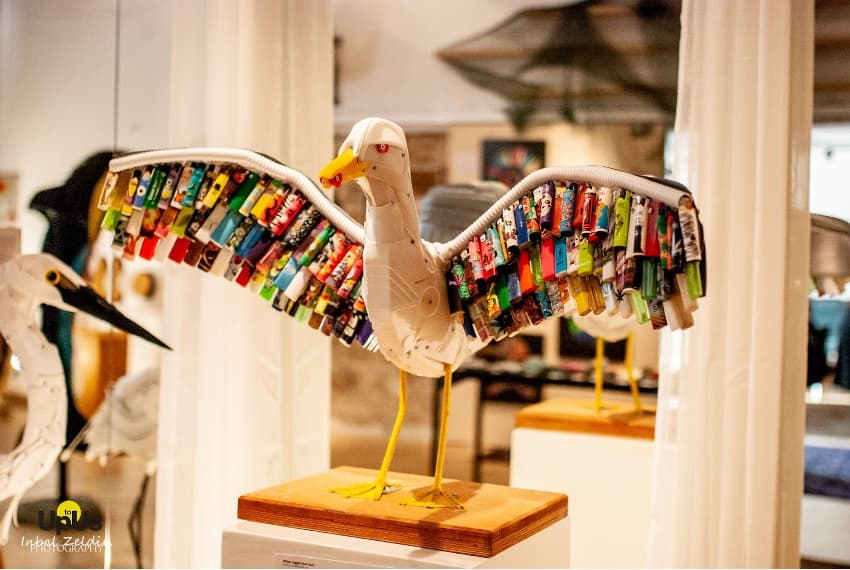 Her first time using art for activism was when she created a piece for the Straw-Free Israel Initiative. Millions of straws are thrown away everyday, and it's one of the easiest things to stop using.
They've created an installation using thousands of straws and plastic bags. To collect them, Evelyn went to movie theatres alone and at the end of each movie she passed by the seats and collected used straws. After going into merely 5 screenings, she filled an entire bag with straws. The Installation was a success.
"When people saw the massive amounts of trash, their first reaction was shock, and that's good because it gives a perspective of just how much trash we're creating and how bad it is."
Turning Trash into Art
Evelyn's ideas always rise from experiences or things she sees on the beach, on the news, in scientific research papers etc. However, the final look of her pieces depends on the materials that she finds. "You never know what you're gonna get on the beach."
Another challenge is not using glue because it's harmful to the environment. Instead, she uses screws and sews plastic and cigarette butts. "In time, I've learned to work with different plastics. I can tell which plastics can hold a screw, which will bend or break."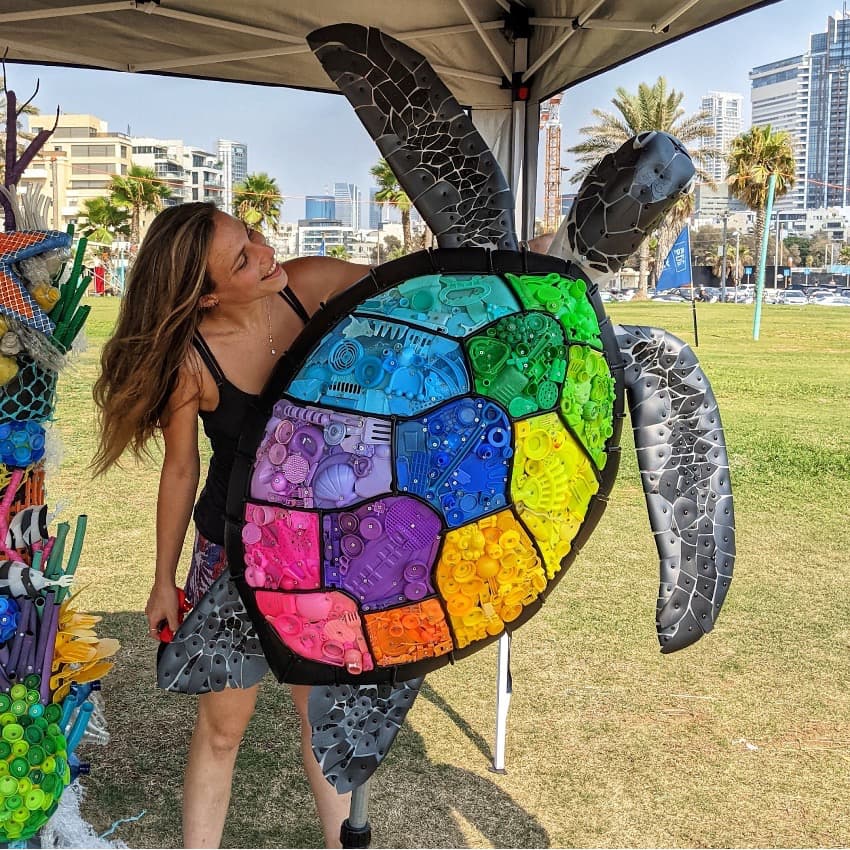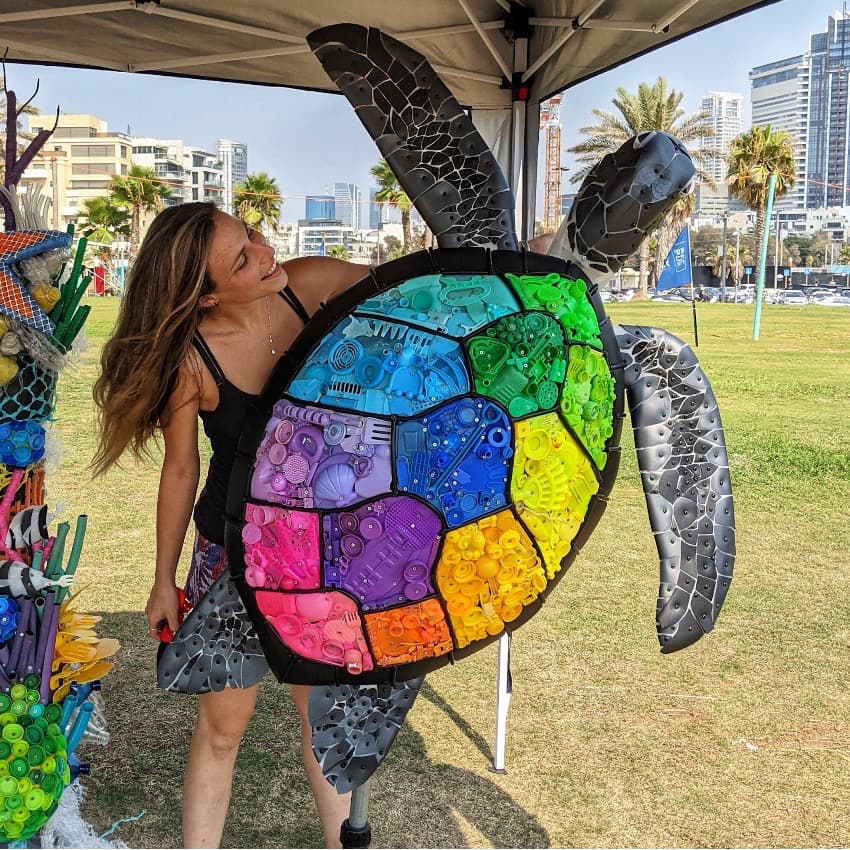 Some of the trash Evi is using for her art includes plastic containers, bottle caps, beach toys, balloons, styrofoam, and food packaging. Most of the trash is from beach clean ups, but she also finds it in nature, because people litter everywhere. In construction sites she collects pipes and tubes to make the initial shape and base of her statues.
"These are all pieces of plastic that will break down and stay in the environment forever because they're non-biodegradable, so I'd rather do something useful with them."
One of Evi's favorite materials is cigarette butts because she likes the result, but they're the worst to work with because they smell terrible. She empties the leftover tobacco from the cigarette butts one by one before she can work with them.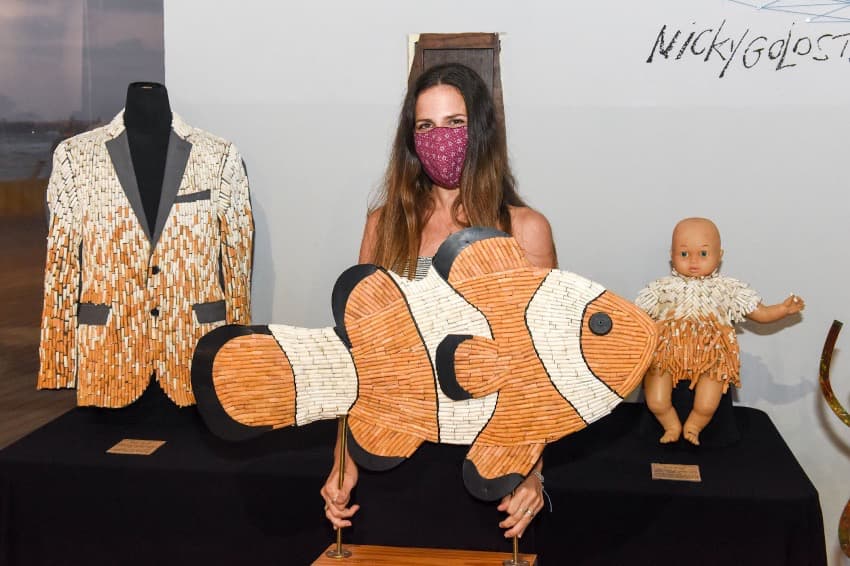 She used thousands of cigarette butts to create "Butt-Nemo," one of her favorite works.
The shape was constructed from plastic pipes she found. Then, she took a broken bucket to make the fins, and covered each with scrap fabric. Finally, the cigarette butts were sewn into the fabric. It took about 150 hours to complete.
What It's like Being an Activist as a Woman
"I do feel a lot of acceptance and support because I'm a woman. But when I'm going to collect trash at the beach or in different places, men often approach me, demanding answers for what I'm doing. So, when I'm going out and about, I feel a little like I'm looking for trouble. But I also feel strong because I have a cause, and my cause is straightening me, making me fear less and have an attitude. I feel fierce."
For young girls who take their first steps into activism, Evelyn advises: "Focus on what you're most passionate about. Even if it's challenging or it's hard, or at times you feel like you want to give up, your passion is crucial to do what you do best."
Exhibitions and Future Plans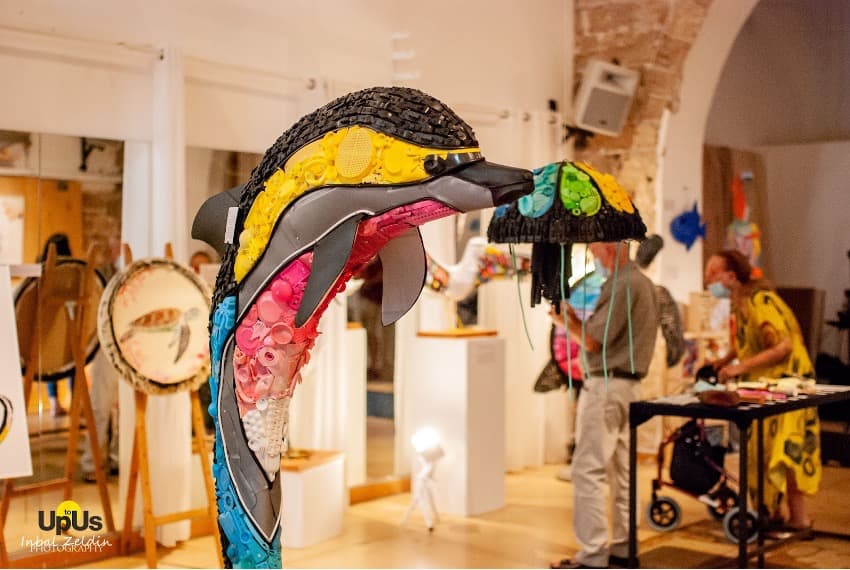 Recently, Evi partnered with Up to Us, an organization leading the sustainability culture in Tel Aviv for her first solo exhibition, 'Love, Death and Plastic'. The exhibition was presented in a venue in the Greek market in old Jaffa for five days and was sponsored by Tipa Corp, Zalul Environmental Association and Billabong Israel.
"The reactions were amazing. Random people just passed by this lively area of Jaffa and entered and said they're so happy they entered and how important it is, asking when's the next one. It was a dream come true and made me want to do more."
All of the artworks in the exhibition were about plastic pollution, and made from plastic.
"It was short, but it was great. There was no exhibition about plastic pollution in Israel before. I hope it'll make people want to make more projects like this."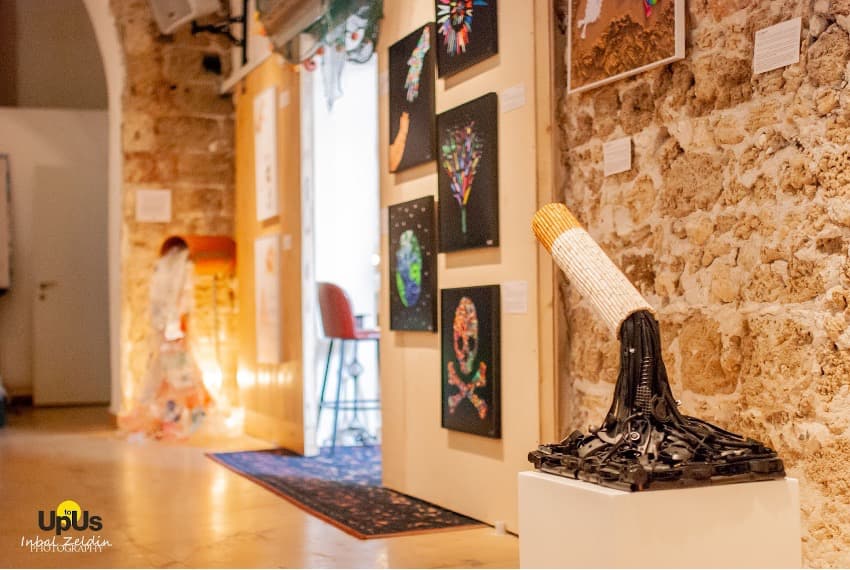 After the exhibition, Evelyn moved to the UK to do her masters degree. There, she wants to research illegal wildlife trade. "Using art is definitely an option—it's always there. Now is just the beginning of my journey."
Evelyn believes that saving the environment is possible, but it is up to us to make it happen.
"I think all of us can contribute to conservation. We can say that taking small steps won't save the planet, but a lot of people changing their behavior will change the planet. Not tomorrow, but we have to start somewhere."