Sisters Michal and Rinat had no thoughts of creating their own brand. Michal worked as a UI designer, and Rinat was a psychologist. While pursuing diverging professional paths, Michal and Rinat had the same hobby in common: making rings out of polymer clay, a synthetic modeling clay that is extremely flexible. Everywhere they went, the sisters would get questions and requests to purchase the rings on their fingers.
Rinat and Michal knew that they had something special, and soon decided to create their own jewelry design brand: Studio OH.
The sisters expanded their collection from rings to necklaces, earrings, bracelets, and more. Polymer clay is still a staple for the sisters, which they are able to shape and cut however they like, creating minimalistic, geometric pieces. Each item is cut by hand, making individualistic pieces of jewelry, each a little different from the other.
Studio Oh's Products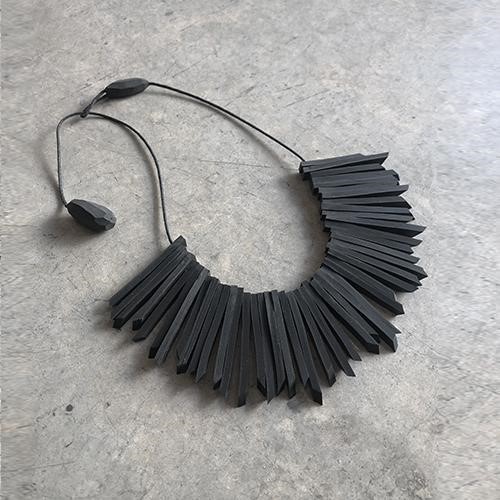 The Sun necklace is adorned with clay polymer beads, which represent the rays of the sun. Like many of the Studio OH pieces, the asymmetrical and geometric style of the necklace is very characteristic of Michal and Rinat. The necklace is also offered in goldenrod and light gray, each providing a different mood to the silhouette.
Necklace length is approximately 23-26cm.
Colors: Black / LightGray / GoldenRod
¥11,340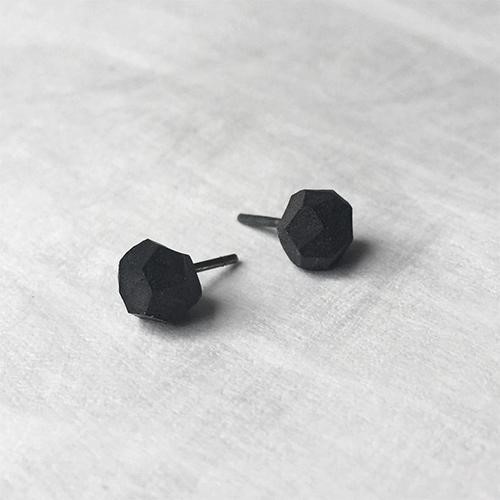 The Polymer Gem Stud Earrings were the first earrings created by Michal and Rinat. Unlike most earrings, the two pieces are not identical to one another, with cuts made into different parts of each polymer clay. The posts are lightweight, made of 925 sterling silver.
Each earring is cut by hand and therefore its size varies from 5-8mm.
Colors: Black / Red / Grey
¥6,175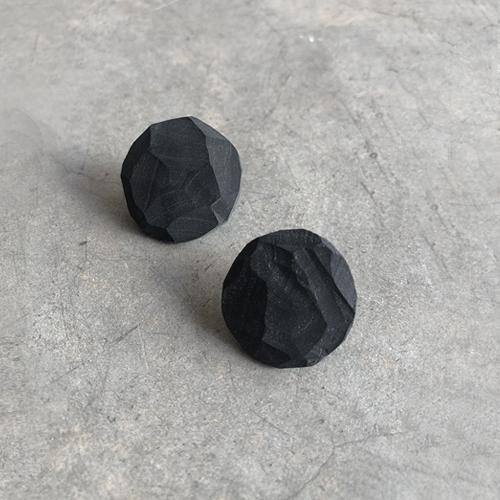 The flat polymer earrings are handmade to have an individual pattern, completing the minimalistic and modern look.
The earrings are made from polymer clay, and the posts are 100% sterling silver (925).
Each pair has an amorphous shape with straight cuts.
Each earring is cut by hand and therefore its size varies. Each polymer flat circle measures around 28mm and has 5mm thickness.
Color: Black
¥11,045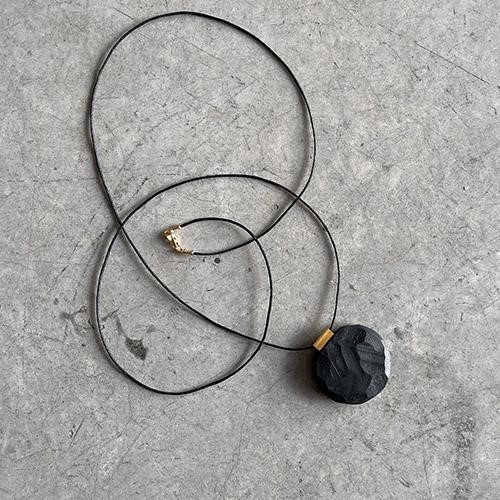 The Flat Circle necklace compliments the simple black with accents of luxurious gold. The flat asymmetrical circle maintains the brand's image of raw beauty. Along with the gold connectors, the necklace is refined and dignified.
Minimal and lightweight, each pendant is handmade from black polymer clay combined with 24 gold plated elements.
Necklace length with pendant is approximately 80-84cm.
The pendant measures 3-4 cm and is 4 mm thick.
Color: Black
¥9,430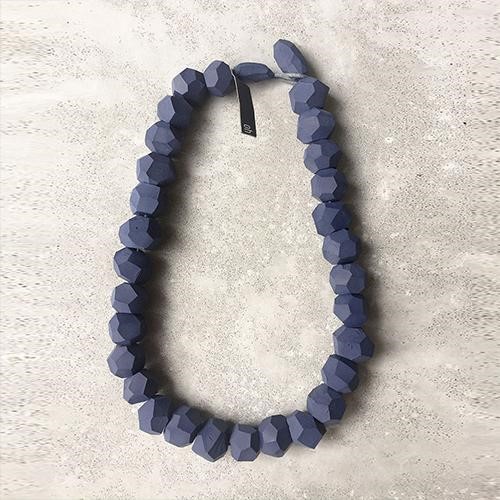 The Beaded necklace was the first necklace created by Michal and Rinat. With beads of polymer clay that have the appearance of stones, each bead is slightly different and unique because of its asymmetry. Unlike stones, the beads are lightweight as they are made of clay, causing no stress to the wearer.
This is a modern, minimalist, and contemporary necklace. Every bead is hand-cut, making each necklace a one of a kind piece.
Necklace length is approximately 22-25cm.
Colors: Black / WorkersBlue / LightGray/ Gainsboro
¥22,415
Studio OH is creating their minimalistic polymer clay jewelry locally in Israel. You can find more information and details on the handcrafted jewelry on the ISRAERU Marketplace.