The effects of global warming and climate change have created a shift towards sustainable fashion and design. Amongst the climate fashion entrepreneurs is designer Maayan Gutfeld, whose "zero waste" mindset drives the philosophy of her design studio. Maayan studio uses zero waste patterns such as natural fibers, recycled material scraps, as well as locally made materials from small business owners to make the products as sustainable as possible.
Prints are a signature trait of Maayan's designs. Traditionally, printing requires expensive equipment that is less than kind to the environment. Following extensive research, Maayan discovered a method that would allow her to do handmade prints using old/found picture frames and screen print mesh.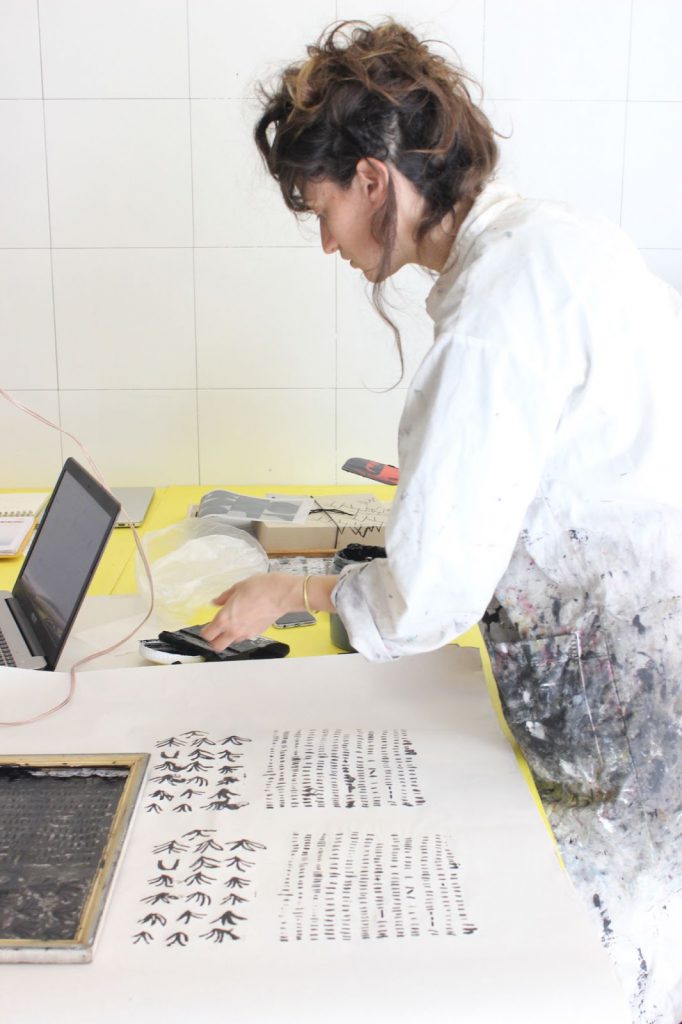 Maayan uses socks as a canvas for her handmade printing . Maayan makes sure that every step in the production is sustainable. First, the cotton material is brought in from Turkey, and then made locally in Israel, manufactured in partnership with a factory located in an arab village. Each finished sock is then handprinted by Maayan, resulting in a one-of-a-kind design.
Mayaan's sustainable sock designs have quickly made a name for themselves. The daughter of Ruby Rivlin, the president of Israel, is a loyal repeater. The socks have even travelled across the Atlantic to Canadian prime minister Justin Trudeau (a well-known sock lover), gifted to him by the president .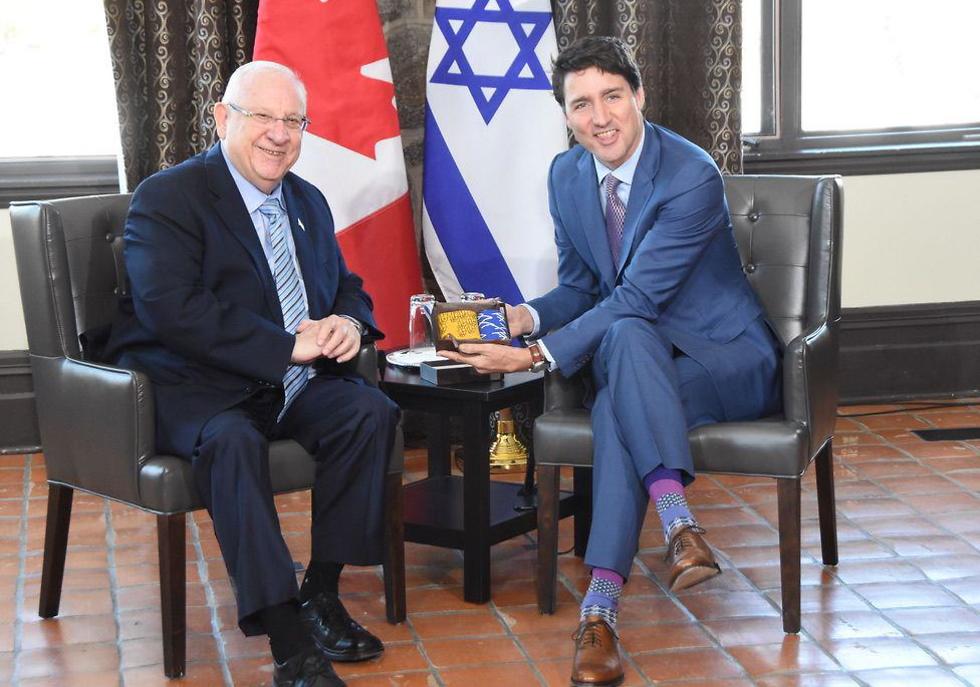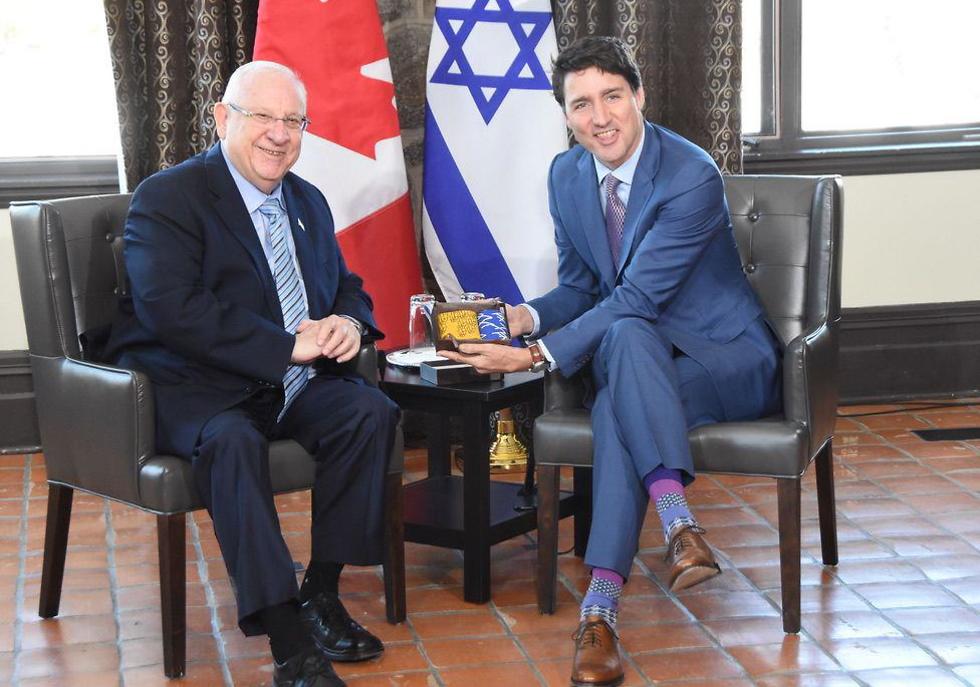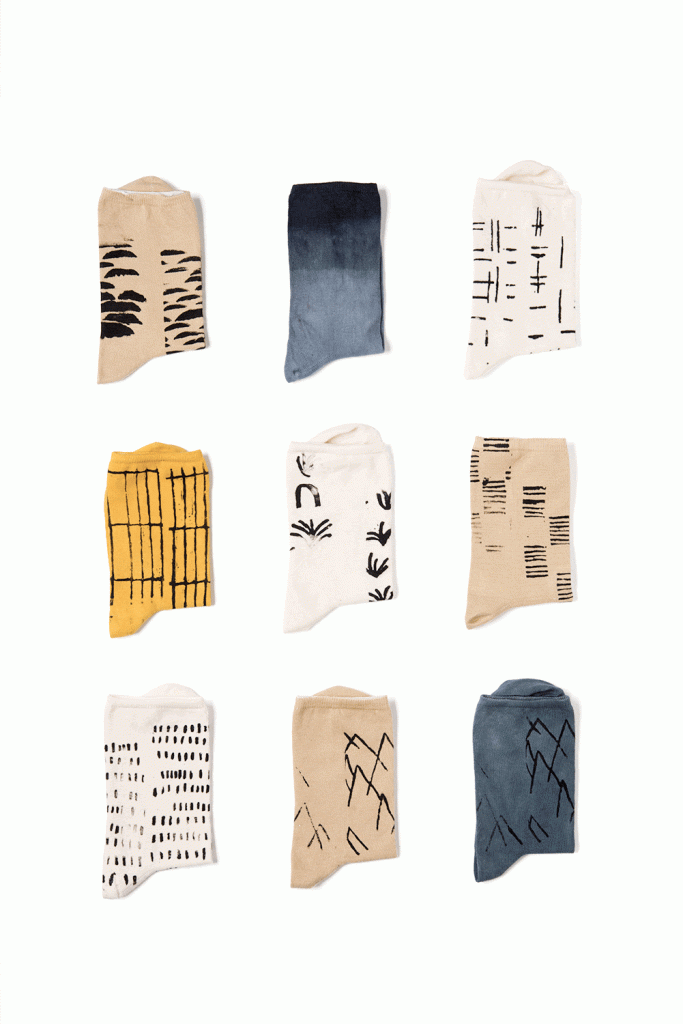 ISRAERU here introduces the world-known socks as well as some of Maayan's other accessories.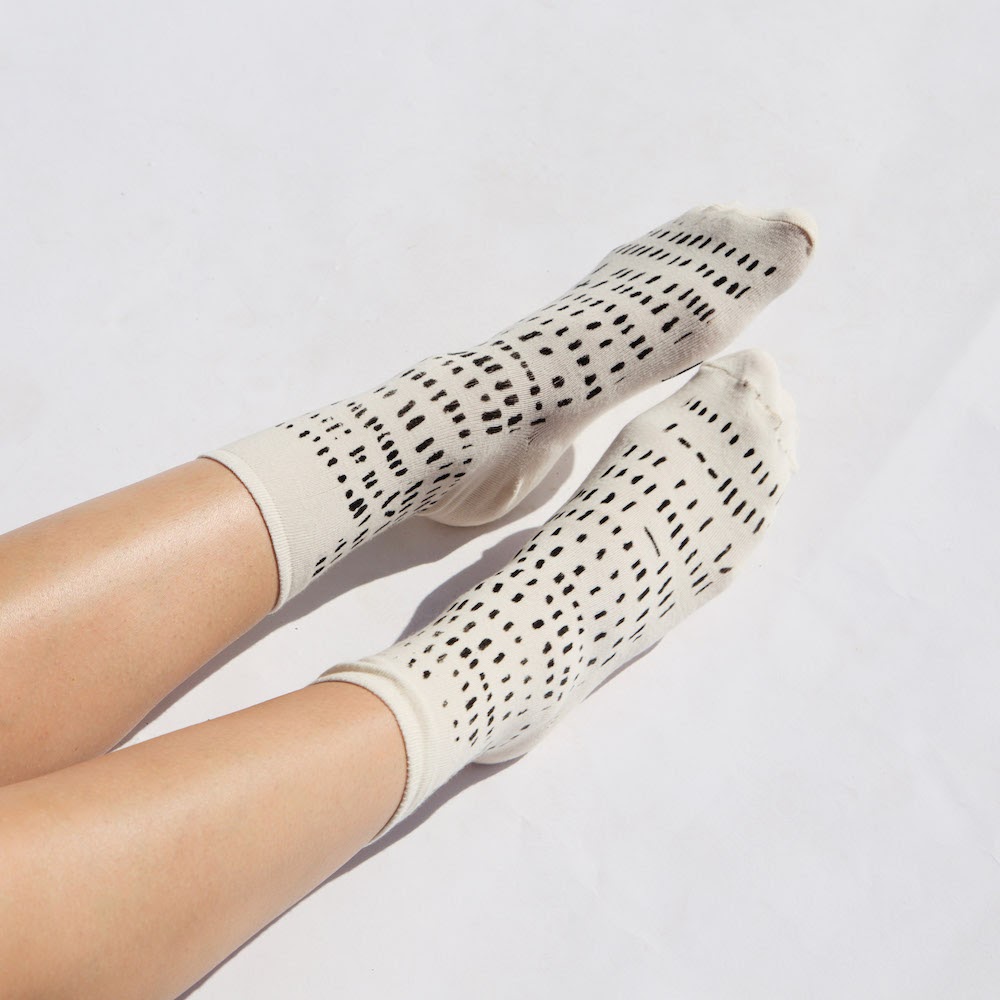 Socks: Drops
85% Cotton,15% Lycra high-quality crew cut socks with a soft elastic band. Made in the North of Israel in a small family-owned knitting mill. Thin band one size (36-41 EU women size | 6-9.5 US size | 22.2- 26 Japan size ) Raw | Beige | Cement Grey | Brick | Light Blue | Black (Bamboo fiber)
Wide band one size (38-44 men size | 6.5-10.5 US size | 24-28.5 Japan size)
Yellow-Gold | Khaki | Denim
All prints and dyes are handmade and one of a kind.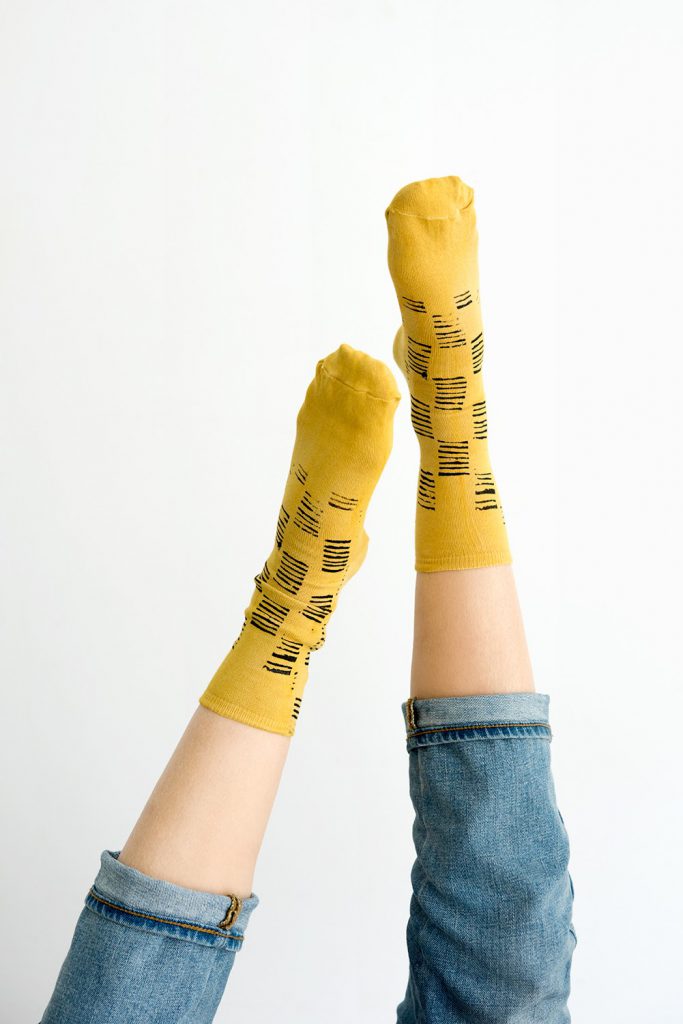 Socks: Vertical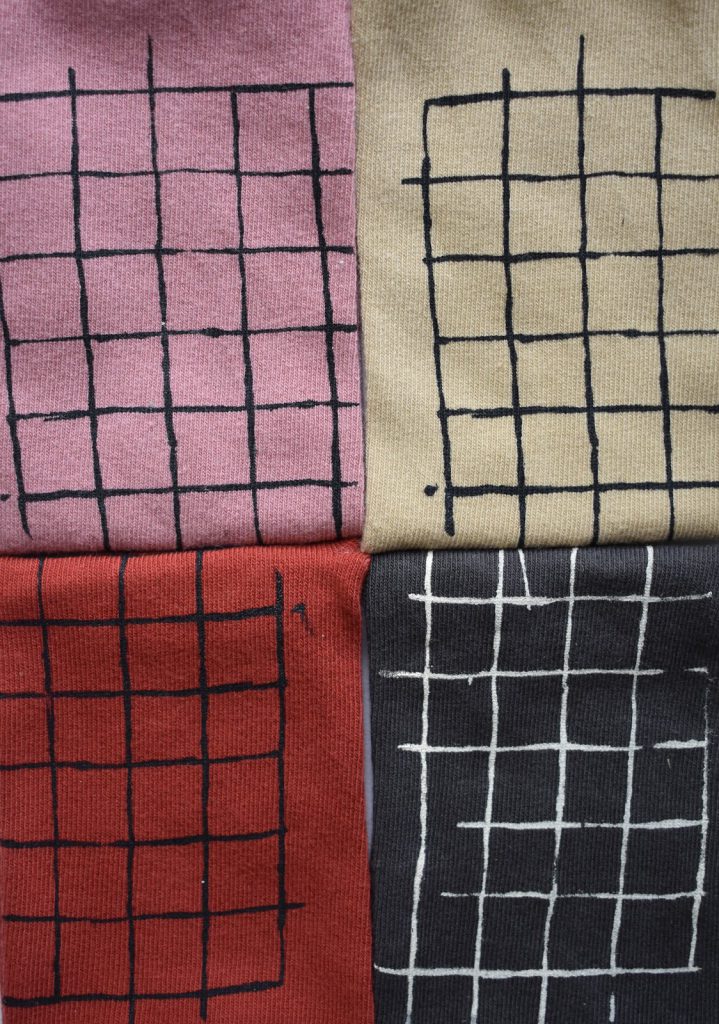 Socks: Checkers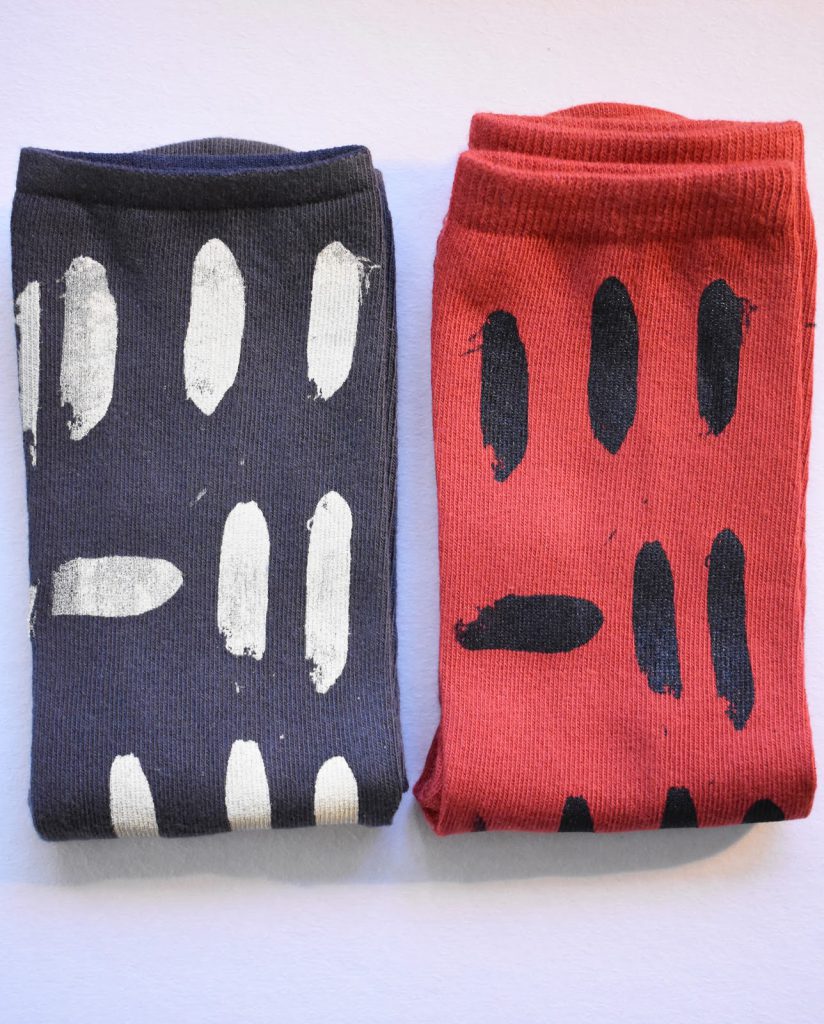 Socks: Big Drops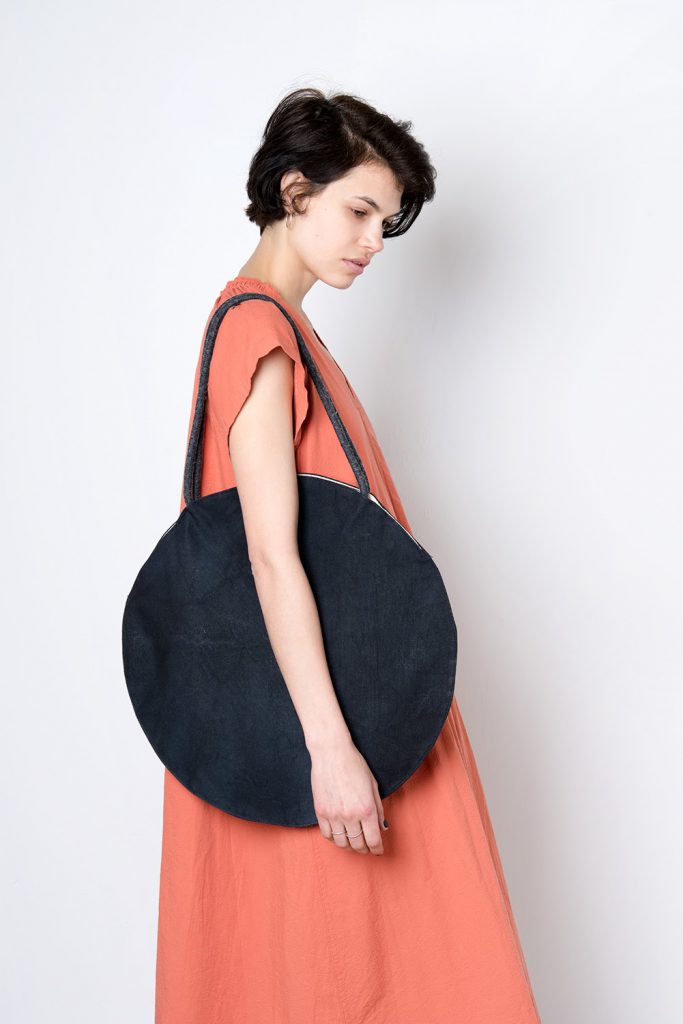 Pita Bag
The Pita bag is made from influences from the Israeli bread, Pita. Rounded with an opening at the top, the pita bag functions just like a pita, filling itself with items instead of foods. The minimalist design lets the unique shape of the bag draw the attention.
Canvas circle tote, cotton rope straps, internal big pocket division. External "easy-to-grab" phone back pocket.
Material: 100% heavy cotton canvas
Colors: Raw canvas / Black-hand dyed canvas. Mustard / Black partially screen printed over the raw fabric.
Size: 45 cm / 18" diameter
rope straps 60 cm / 23"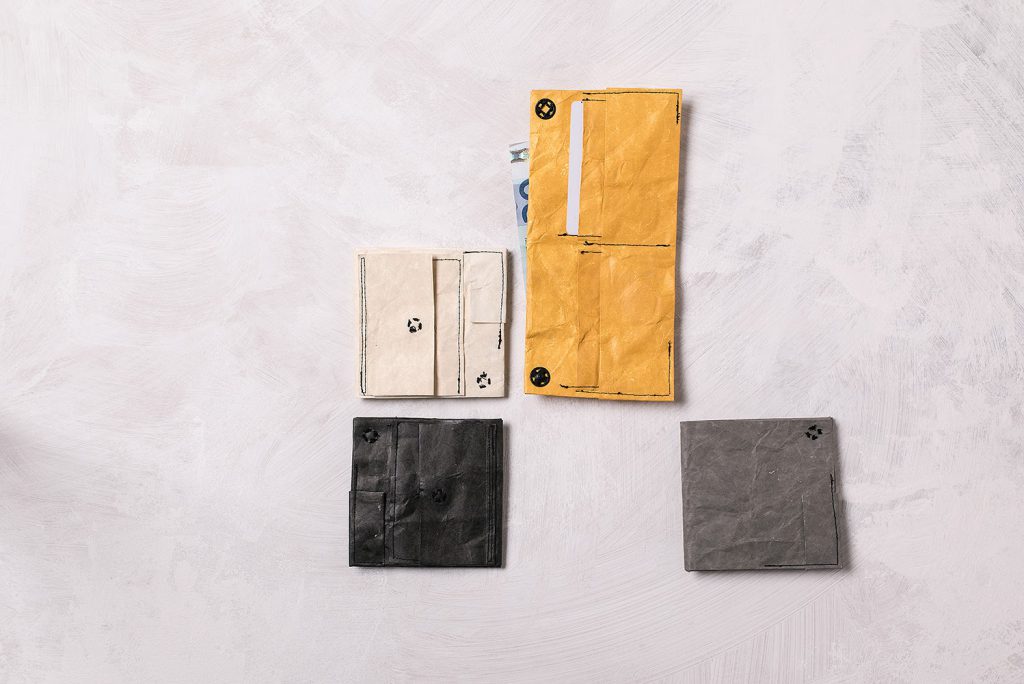 Origami Wallet
Inspired by the Japanese paper folding techniques, the origami wallet stores money in an extremely lightweight synthetic paper material that is both tear and water-resistant. With an aged paper look, the origami wallet truly looks as if it was made out of origami papers, but is instead replaced with an even more durable material.
Made out of Tyvek® tear and water-resistant synthetic paper, hand-dyed, folded, and sewn.
Metal snap closer
External coin pocket closed with metal snap.
4 credit card pockets (expand to hold more cards)
1 large cash pocket.
Colors:
Black / Off-white​ / Mustard / Grey /
Measurements when closed:
10X10 cm / 3.9″ X 3.9″
Measurements when open:
20 X 10 cm / 7.8″ X 3.9″
Maayan Studio is showing that fashion can also be sustainable, part of a change in the fashion industry to create clothing that does not damage the environment. Visit the ISRAERU marketplace to learn more about the wide range of zero waste products available.